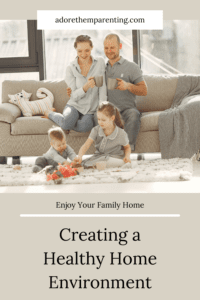 A healthy home to relax in needn't cost the bank.  For optimal wellbeing and wellness, you want your home to help you feel at ease, not to lead to dis-ease.  Below we unpack budget friendly hacks to creating a healthy home environment that works for you and your family.
---
For more on this topic, check out the full Family Home and Home Safety collections
---
Bring Nature In
Nature is known to be a potent force for healing and general wellbeing.  Most people report experiencing a sense of peace and serenity when they look upon or spend time in natural settings.  In recent years, there has been scientific interest in evidencing what we've instinctively felt for a long time, and the results show that nature is indeed a healer.
Psychiatric in-patients who were exposed to nature and offered chance to nurture plants reported increased calmness and insight and decreased intrusive thoughts. And recent research shows that so called "biophilic" indoor environments that incorporate natural features into the interior design helps to reduce  blood pressure and physiological stress indicators, while also increasing creativity scores and improving short-term memory.
Bringing Nature In on a Budget
You can reap the benefits of bringing nature in without spending a fortune.  Consider the following options to being nature in for a healthy home environment:
Simply opening blinds allows you to look at the clouds and any trees you might be lucky enough to see from your windows.
Providing you are not living next to a major highway, consider opening your windows to benefit from natural fresh air.  You may well find you can hear birdsong, which is a wonderful, no-cost, mood-booster.
Select nature-based images and patterns for drapes and cushions when you look to redecorate.
You can easily and cheaply propagate many varieties of houseplants easily from cuttings that will allow you to bring nature indoors.   Produce your own free compost from scraps to propagate seedlings.
Houseplants
It's worth lingering a little longer to really extol the healthy home benefits of incorporating houseplants into your décor.  Certain varieties of houseplants have been identified as offering additional benefits in terms of air purification due to their ability to absorb VOCs (Volatile Organic Compounds) from the environment.  Emitted from furnishings and cleaning products, the United Nations identifies VOCs as a major air pollutant.  VOCs can lead to health problems, including eye and throat irritation; headaches; fatigue and skin dryness.  Houseplants that are known to absorb toxic air borne pollutants from the atmosphere include the Peace Lily, Dracaena and Rubber Plants.
Chem-Free Cleaning
Houseplants, as we've seen can help to absorb toxic air pollutants and VOCs.  They act as a sponge to airborne nasties that impact health.  However, as the old adage says, prevention is better than cure. For a healthy home, it makes sense according to the experts at BetterCleans to reduce, at source, the amount of VOCs we are releasing into our home.  One simple and budget friendly way to reduce VOCs emission is to consider cleaning products used.  Some glass cleaners include toluene, 2-butoxyethanol, ethylbenzene and tetrachloroethylene. Furniture and floor-cleaning sprays can contain formaldehyde.  While such products may leave your home shiny, they also release VOCs into the air.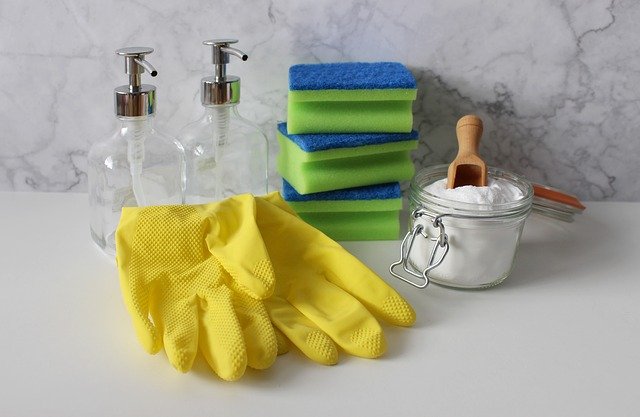 Chem-Free Alternatives
For a healthy home environment consider more natural options.  There are plenty of non-chemical alternatives on the market.  For example, Castille soap is the Vegan, plant-based oil multiple-purpose cleaner that works as a detergent.  It's safe enough to use as a shower gel as well as a floor cleaner, meaning you can streamline the number of products in your cleaning cupboard.
If you want to get creative, you can also turn to old-school tried-and-tested homemade cleaning products created from natural ingredients such as lemon juice, bicarbonate of soda and vinegar.  Old newspaper and recycled textiles can be employed as wipes and polishing clothes for minimal environmental and financial cost.
[Read: Decorating Your Home on a Budget & DIY House Cleaner Recipe]
Healthy Relationships
When we think about healthy homes, its good to consider the relationships that take place in our homes.  A healthy home is a happy home.  By contract, a house filled with repeated conflict, arguments and tension does not contribute to long-term psychological health.  If you feel you are at risk of any form of Domestic Abuse, please do seek professional advice and support.
A psychologically healthy home is built upon healthy relationships.  Communication is key.  So, consider how you can implement some of the following to help create a happy, harmonious and healthy home:
Aim to eat with other family members as and when you can.  A shared meal is a great way to connect, chat and build relationships.
When you feel your blood beginning to boil, pause!  A simple moment to gather yourself can help turn an instinctive reaction into a more considered response that is more likely to support effective communication.
Use "I" statements when you feel the need to challenge other household members about their behavior or conduct.  An accusation of "You are lazy" is likely to promote defensive replies that become fruitless arguments.  Try changing the statement to "I feel disappointed and upset when you sit there while I do the chores".  To really help with open communication, be clear about what you want and need.  "I'd like you to give me a hand".
[Read: Navigating Marriage]
Sleep Supporting Spaces
In the quest to create a healthy home environment without spending a fortune, ensure you don't neglect the bedroom.  Poor sleep is a major contributor to health.  In contrast, when you sleep well, you wake feeling refreshed and with a real sense of wellbeing.  Taking some simple sleep hygiene steps is a great way to contribute to the overall health and wellbeing of your household. Consider the following:
Wear comfortable sleepwear and a sleep mask. For all the gentle support it provides, remember to take off your belly wrap for postpartum recovery before sleeping.
Keep bedrooms uncluttered and tidy.  Messy sleep spaces make it harder to feel that sense of calm serenity that supports sleep.
Fold and put away clothes on the floor, and place clutter in cupboards.  If you are lacking furniture, consider heading to the thrift store for some bargains.
Consider the purpose of your bedroom.  Ideally, bedrooms should be reserved for sleep and sex only.  If you use the bedroom as a workspace or a room to do the ironing in, your brain can come to associate your sleep space with alertness.
Place a bedtime limit on screentime and opt for a book instead.  It's been shown that artificial blue light emitted by screens promotes alertness that can impact quality sleep.
Exercise taken in natural daylight helps to regulate brain Melatonin levels, supporting sleep.  You can exploit your natural melatonin levels further by making sure your bedroom is dark when you sleep.  Blackout blinds are a boon for healthy sleep.
[Read: What to Keep on Your Nightstand & Relaxation Techniques]
Create a Healthy Home Environment
So – a healthy home environment, and a safe kid-friendly garden, is within your reach – no matter your budget.  In fact, some of the tips here are money savers, too!  Make your home a place of ease by trying these easy tips and techniques.
For more on this topic, check out the full Family Home and Home Safety collections
---