Here is an easy and free Easter activity for your kids! They will surely love these Easter egg coloring sheets!
Use as an Easter party activity. Or print out on card stock, cut out, and use as Easter decorations. In addition, you can simply print out a few sheets for a fun, festive activity leading up to Easter 🙂
---
For more on this topic, check out the full Easter Fun collection
Easter Egg Coloring Sheets
Print out as many copies as you'd like!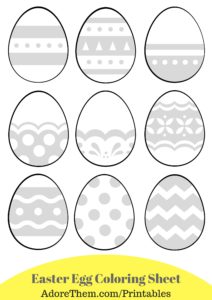 ---
HERE ARE 4 MORE EASTER THEMED CRAFTS & TREATS I KNOW YOU WILL LOVE:
Because we know Easter is just around the corner… Therefore, take advantage of these free Easter resources! Not only are these all budget friendly ideas; but they also provide non-messy solutions for some of the most popular Easter themed treats. Above all, your kids will love the extra craft time at home!
Easter Activities for Kids – easy and fun Easter activities for kids
Jelly Bean Tree – cute and inexpensive Easter decor
A Cute Easter Treat for Kids – perfect Easter treat or party favor
Easter Jars – adorable chocolate bunny jars are easy and delicious