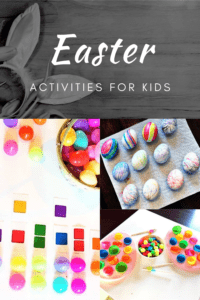 I love this time of year! Daffodils and tulips are beginning to peek through, the grass turns green, and the trees begin to blossom. It is Springtime, and it is Easter. For many it is a fun celebration filled with chocolate bunnies and Easter Egg Hunts. And for a lot of us it is also a religious holiday; a spiritual time for reflection and appreciation. Either way, parents are always on the look out for fun Easter activities for kids, and I have included a few of our favorites below!
*Note: This Easter will be different for us all as we are in the midst of the COVID-19 shutdowns. Continue reading for ideas of how to celebrate Easter at home…
---
This article is written by Karissa Tunis
For more on this topic, check out the full Easter Fun collection
---
As I get ready to celebrate this special occasion, I can't help but feel thankful. No matter how difficult or hard life can get, I'm learning that there is always, ALWAYS, something to be thankful for. And if I focus on the many blessings in life, it's easy to see even more of the wonderful opportunities around us. Especially since this time of year brings a lot of new beginnings and fresh opportunities. Not only just in nature, but many people are looking for a new move and a fresh start. And it is exciting to think what adventures could possibly be in store for us ahead!
I really enjoy planning festive activities with my children. So as we gear up for Easter, a few egg hunts, and springtime parties; I though I'd share a few things we have been doing around our house. Decorating eggs, playing a few new games, and making a simple yet delicious snack – all fun, simple, Easter themed activities that my young kids can enjoy 🙂
Easy Easter Egg Coloring for Kids
I don't know about you, but in our house we have tried all kinds of ways to color Easter eggs – such as dyes, stencils, stickers, and probably even more. While a lot of these options are fun and creative; I am often left with a big mess to clean up. Not only that, but many of these applications take skill that is beyond my kid's abilities. So reality is often me doing most of the work, and the kids just watching, which is not as much fun.
Thankfully, I found the perfect easy egg coloring solution for my kids!
Two years ago I discovered (thanks to Pinterest) that crayons work really well! Not only is this option much cleaner, it's easy and fun! And it costs practically nothing – because who doesn't have some old crayons laying around their house?!
The colors turn out so vibrant when coloring on a warm freshly boiled egg! Here are a few of our photos…
[ Read: 6 Easy Ways to Hard Boil Eggs ]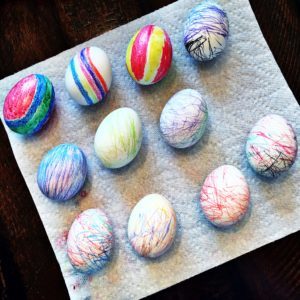 You can tell which eggs my oldest daughter colored when they were still warm, and which ones the her younger brothers colored after the eggs cooled off. But either way, they all turned out beautiful!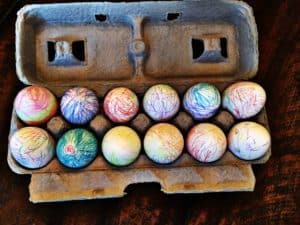 Fun Easter Games for Kids
Just like old crayons, who doesn't have plastic Easter eggs laying around their house? While they are great and functional in the Easter baskets, and perhaps add to the decor around your home, I am always looking for additional ways to use them. One option I have found is to extend their life and use them all summer long as a pool toy, (more details here).
The other option is to create fun games with them. Here are two easy and inexpensive games my children enjoy playing with their plastic colored Easter eggs. No matter their age, it provides a great opportunity for some hand-eye coordination. And for the older ones you can make it even more competitive by timing them: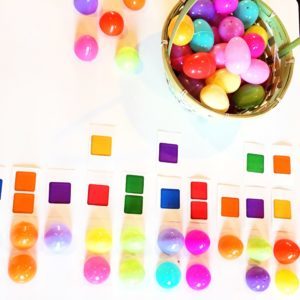 Game #1 – Easter Egg Match
This was a fun matching exercise! I pulled out Candy Land game cards to make a pattern, then they had to duplicate the pattern below the cards with plastic eggs. Time them for an added challenge.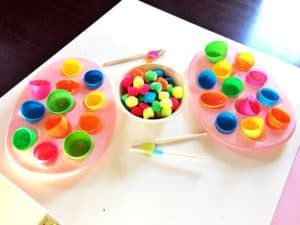 Game #2 – Easter Eggs and Pom-Poms
For my older two kids, they competed against each other while being timed by the youngest. But you can also play this solo. For this game they had to use their chop sticks to grab small pom-poms and drop them in the matching color eggs in their tray. First one to fill their tray, or beat their old time won! Again, this provides great hand-eye coordination.
Easter Crafts for Kids
We have a whole collection of Easter content focused on fun Easter crafts for kids and the entire family! Most of these crafts can be done easily and quickly with materials found around the house (or with a few items from the grocery store).
Easter Egg Coloring Page – free printable for kids
Jelly Bean Tree – cute and inexpensive Easter craft for kids
Fingerprint Easter Eggs – 5 minute Easter egg craft
Religious Easter Craft – collect items from around your yard for this kid craft
A Cute Easter Treat for Kids – perfect Easter treat or party favor
Easter Jars – adorable chocolate bunny jars are easy and delicious
Easter Snack for Kids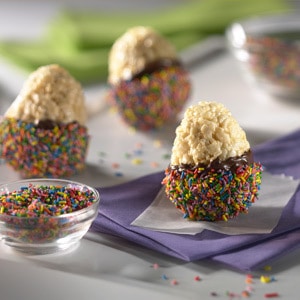 Thank you to Kellogg's Rice Krispies for this easy, delicious treat idea!
Basically you make Rice Krispies in the shape of Easter eggs. I washed a plastic Easter egg to use as my mold. Just be sure to spray it with a non-stick spray so that you don't have a big clumpy mess!
Next you dip the Rice Krispie eggs in melted chocolate, and then dip them in sprinkles. Put them in the fridge to set, and you have the cutest looking Easter snack for kids and adults to enjoy!
Below is how mine turned out. I decided to use white chocolate and bright sprinkles – and they were a huge hit at all of our Easter parties!
---
Happy Easter to our Adore Them Parenting readers!
For more on this topic, check out the full Easter Fun collection
---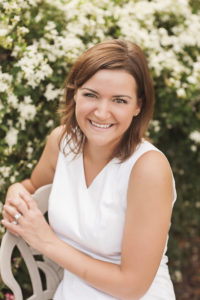 Co-Owner: Karissa Tunis
Karissa Tunis is the co-owner of both the parenting website Adore Them and the family event company Milestone Family Expos. Through these ventures she is able to share inspiring, heartfelt insight with large audiences within local communities and across the country! Her knack for all-things-organization allows her to balance content creation, brand partnerships, and event planning without losing sight of what she wants for her own family. Despite her busy schedule, Karissa also makes it a priority to spend quality time with her husband and three children. You will often find her volunteering at her children's schools, cheering them on from the soccer sidelines, or enjoying the great sites of Charleston, SC with her family.
Contact: Karissa@AdoreThem.com
---