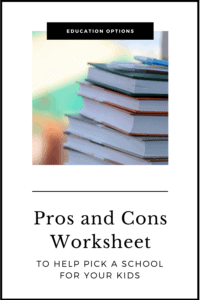 This collection has been created to shed light and answer questions surrounding different types of schooling and education. We are not trying to compare, but rather educate you on the differences. However, each family will need to make their own decision regarding what works best for their child and family as a whole. There are no "right" answers. It is instead an individual decision that needs to be made based on your student's individual needs, learning style, abilities, and resources. Check out this FREE School Options printable below.
Our goal of this Education Options collection is to allow you to dive a little deeper into the possibilities and opportunities around you!
And we created this free school options printable to help you decide which education option might be best for you child!
Public | Private | Homeschool/Cyber | Montessori | Waldorf | Classical | Unschooling
---
School Options Printable
For more on this topic, check out the full Education Options collection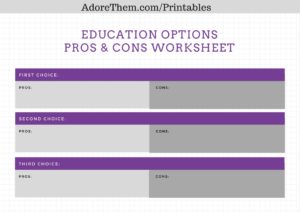 ---
BACK TO SCHOOL COLLECTION
Back to School is always a weird time of year for families. Everyone is on varying levels of dreading going back, and/or looking forward to it. Oftentimes, it's a mix of both! And since this transition is something that we have to do every single year; it's a good idea to seek out the best school options and find some strategies to help make things go as smoothly as possible!
In this collection we are offering Back to School advice, tips, and suggestions from both expert professionals and also seasoned mothers! Enjoy topics on how to help the whole family adjust back to school, 3 ways to prepare for the first day of school, a free morning routine printable, guidelines for accomplishing homework, homeschooling, and more! Getting back into the school routine might be a challenge at first; however, with these strategies you will hopefully soon find your new stride!
Best of Luck!
For more on this topic, check out the full Back to School collection
---