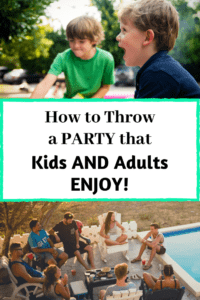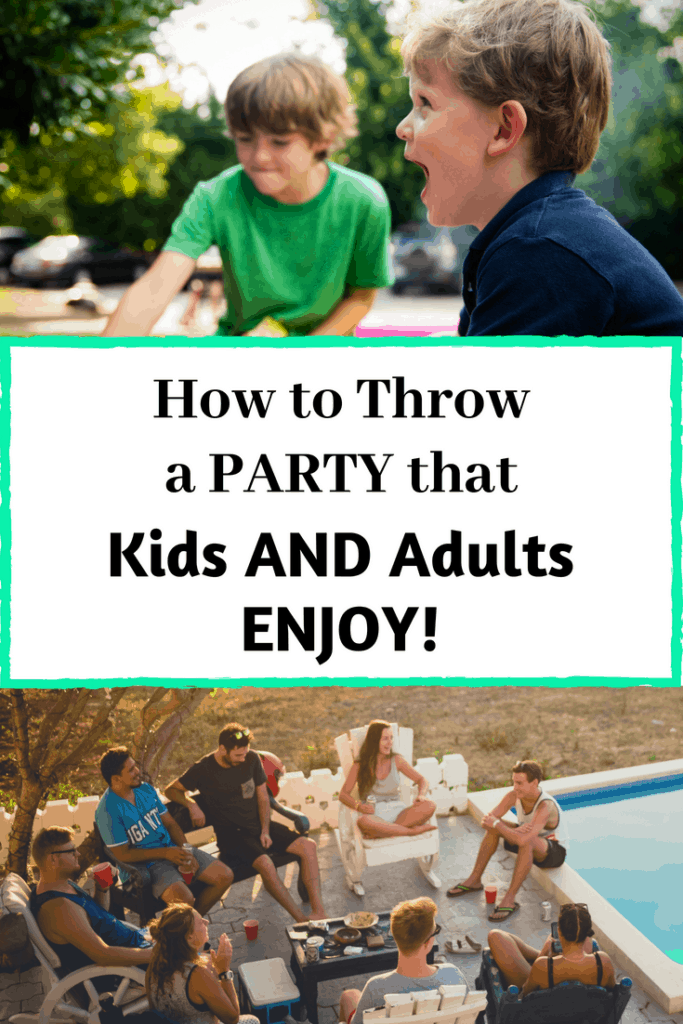 I love throwing parties, and I love having parties where everyone is able to enjoy themselves. Creating a party that is fun for adults AND kids is not the easiest thing, but over the years I have compiled a whole bunch of tips that could help make your party a success! Learn how to throw a party that kids AND adults enjoy!
---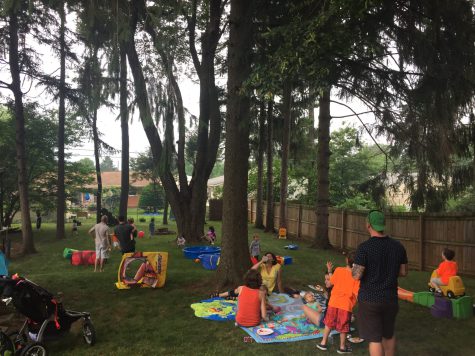 Plan Party Activities that Kids Can Do without Help
There are a lot of awesome ideas on Pinterest; however, you need to think about the reality of it. If you want to do face painting, an adult will need to be in charge, there will be a line of whiny kids impatiently waiting, and there will be requests for things that you probably won't be able to draw. Having a craft station for young kids, means that their parents will need to help them through it. If you plan some elaborate game, the adults will need to explain and referee. When you throw a party that kids and adults enjoy, you have to simplify activity ideas.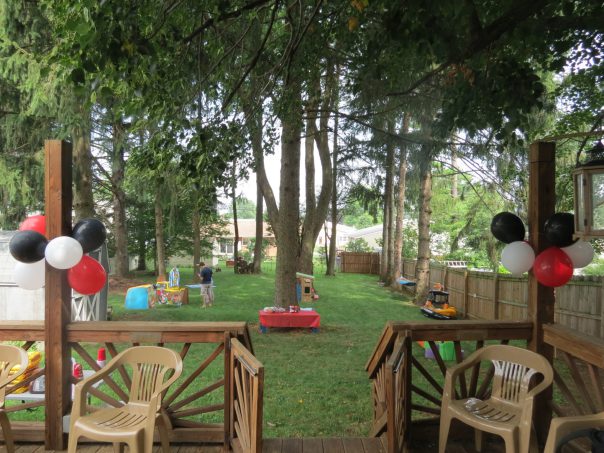 Put out Toys that Multiple Children Can Play with together
Children are not great at sharing so why not eliminate a lot of the frustration and just put out toys and activities where a whole group of kids can have fun together. Set up a bubble station (DIY bubble solution & fly swatters works awesome). Have a whole bucket of balls (soccer balls, basketballs, footballs, and whatever is laying around your house). Create a ball pit (you can buy ball pit balls at the toy store to dump into a kiddie pool). Put out all of the ride on toys and bikes that you have so that there is plenty for everyone to use.
[check out this party planning Calendar checklist to help prepare for your next event]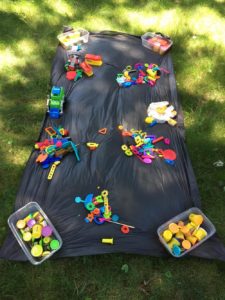 Take Inside Toys Outside for Parties
For a lot of our outdoor parties, I end up taking toys that typically belong inside, outside! It is fun for the kids to mix it up, and keeps them occupied. I have taken the pretend food toys out to the playhouse. Other parties, I have taken all of the tents and tunnels that we have collected out to the backyard. And I have taken cars, trucks, and even trains out to race on the deck. Inside toys take on a new life when they go outside, and it will keep everyone happy for hours. *Note: Put away your child's favorite toys during the party. If they have a special toy that you know they are not going to want to share, just hide it out of sight during the party and avoid the meltdowns.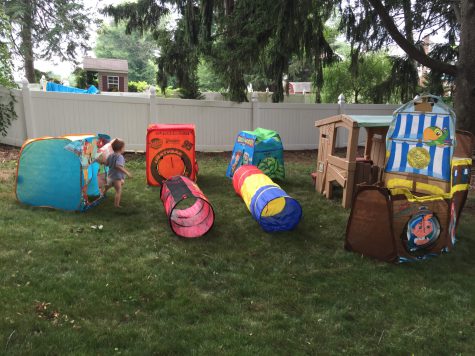 Avoid Messy Activities at Family Parties

Having a painting party sounds awesome, and I have thrown a party where I had water tables and kiddie pools. But in reality… they are more effort than they are worth. Messy parties are the kind of parties that sound fun in theory but end up being stressful. The parents have to keep a closer eye on their kids, they have to pack changes of clothes, they have to worry about getting messy themselves. It is easier to prevent mess where you can – although I am not guaranteeing that your child won't go home without a few grass and mud stains.
Why not organize games centered around dressing up? Dress-up activities for a kid's party are usually fun, exciting, and creative. It might be a good thing to incorporate this into the event. Dressing up according to specific themes can also be enjoyable for adults. Becoming a princess, royalty, a knight, or the children's favorite superhero will surely make for a fantastic party.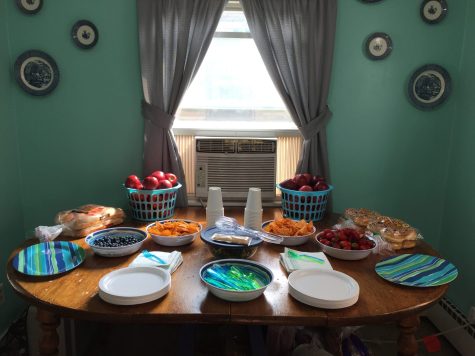 Serve Kid Friendly Food
When planning the menu, make sure that there is kid friendly food included. My boys are picky eaters, and a lot of times they end up only eating chips and maybe some fruit when we go to a party. Hot dogs, mac n cheese, peanut butter & jelly… kids live on these kinds of foods; and parents will be thrilled if they get anything in their child's stomach at a party regardless of the nutritional value. You can even set up a kid food and drink station where they can help themselves throughout the party – fun for the kids, easy for the parents.
[check out this helpful How Much To Serve food & drink planning chart]
Stay Away from Little Details
The reason that parties can be such a headache for hosts is all of the little details. You don't realize how much work all of those little details are until you are regretting all of it a week before the party. Cupcakes sound easy in theory, until you realize you have to ice them all. Small, elaborate decorations sound beautiful, until they get lost and go unnoticed in the chaos of the party. Having a candy bar where people help themselves is easier than you having to stuff 30 goody bags yourself. If you are going to do a DIY project, make sure that it has a big impact – like a whole balloon wall!
The common thread throughout these tips is to keep it simple so that the kids can have a good time without needing their parents. The kids want to play and explore. The parents want to sit and chat. So make it as easy as possible for everyone to do just that. Keep things kid safe, kid friendly, and simple; and the parents will enjoy themselves more too.
---