If you are like me – then you LOVE a good party! Whether it is for a birthday, to celebrate an anniversary, around the holidays, ringing in the New Year, on the 4th of July, at the pool, or just hanging out with friends in your backyard. No matter the occasion (or how fancy), everyone loves a fun event! And the great news is that you do not need to be an expert party planner, or a professional event coordinator, to host a successful bash. With these free resources from Adore Them Parenting, you too will be able to plan your next festivity like a pro! Keep reading below for your free Party Planning Checklist.
---
This article is written by Karissa Tunis
For more on this topic, check out the full Party Planning collection
---
Party Planning Checklist
Below is a free party planning checklist printable calendar to help you stay organized. Print it out and hang it on the fridge. Or, keep it in the front of a folder or binder, and file behind it everything that you need to keep track of in order to plan your next extravaganza!
And scroll down for even more free party planning resources from a professional event planner. Enjoy, and happy planning 🙂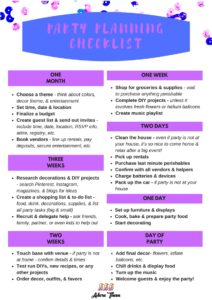 ---
Free Party Planning Resources
Enjoy these additional Free Party Planning resources from Adore Them Parenting:
For more on this topic, check out the full Party Planning collection
---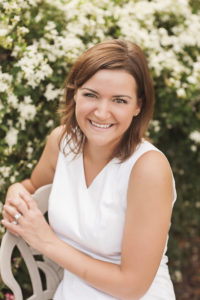 Co-Owner: Karissa Tunis
Karissa Tunis is the co-owner of both the parenting website Adore Them and the family event company Milestone Family Expos. Through these ventures she is able to share inspiring, heartfelt insight with large audiences within local communities and across the country! Her knack for all-things-organization allows her to balance content creation, brand partnerships, and event planning without losing sight of what she wants for her own family. Despite her busy schedule, Karissa also makes it a priority to spend quality time with her husband and three children. You will often find her volunteering at her children's schools, cheering them on from the soccer sidelines, or enjoying the great sites of Charleston, SC with her family.
Contact: Karissa@AdoreThem.com
---