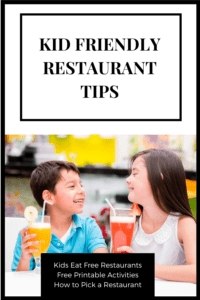 What makes a great kid friendly restaurant? Where can I take my whole family out to dinner? Which restaurants let kids eat free? How do I help my kids behave better at restaurants? I'll be covering all of this and more so that your family restaurant experiences will be much more enjoyable for everyone!
Eating out with kids is doable, and can even be enjoyable! You just need to know how and when to best plan for a meal at a restaurant with kids…
---
This article is written by Karissa Tunis
Facebook   |   Instagram   |   Pinterest
---

Restaurants Where Kids Eat Free
One of my favorite apps is Kids Eat Free Near Me. It shows you which restaurants kids can eat at for free, or offer a free kid's meal with an adult meal purchase, and which night of the week. And the best part is that this app is free to download! I also like to keep a list in my Notes app in my phone with these same type of deals that are offered by my local restaurants. This has allowed us to eat out more as a family without over-stretching our dining budget. Enjoy!
National Restaurants where Kids Eat Free
Offers may vary depending on your location, but here are 35 national restaurants that offer kids eat free days!
Applebee's
Bennigan's
Back Yard Burgers
Bob Evans
Captain D's Seafood Kitchen
Chick-fil-A
Chicken Out Rotisserie
Culver's
Denny's
Dickey's Barbecue Pit
East Coast Wings
Famous Dave's
Firehouse Subs
Golden Corral
Holiday Inn
IHOP
IKEA
Jason's Deli
Jeffery's Sports Grill
The Locker Room
Lone Star Steakhouse
Little Bitty Burger Barn
Maggiano's Little Italy
Moe's Southwest Grill
On The Border
Pizza Street
Planet Sub
Ponderosa Steakhouse
Qdoba Mexican Grill
Red Brick Pizza
Steak 'n Shake
Texas Roadhouse
T.G.I.Friday's
UNO Chicago Grill
White Castle
---

Free Printable Restaurant Activities for Kids
Are you are looking for a fun activity to do at home? Or do you want something to keep your little one entertained when you go out to eat, even if it's to a kid friendly restaurant? Here are some free printable activities to keep on hand or in your special going out bag:
---
Free Printable Coloring Pages for Kids that are Food Themed
These coloring pages are the perfect solution for a little coloring entertainment! The large spaces will allow young kids plenty of room to color inside the lines. And they will also provide lots of opportunity for older children to get super creative with their designs.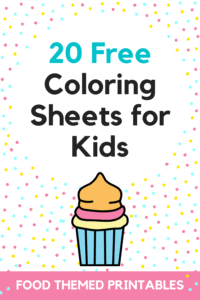 ---
Free Printable Restaurant Activity – Fill in the Blank Menus
Allow your children to get creative, plan out their dishes, set their prices, and add some additional graphics. You can even laminate these to allow your child to use over and over again with dry erase markers. Perfect for the playroom, when going out to eat, or when creating your own kid friendly restaurants at home!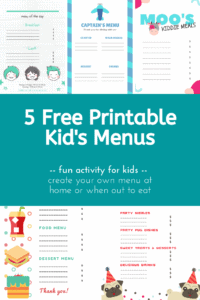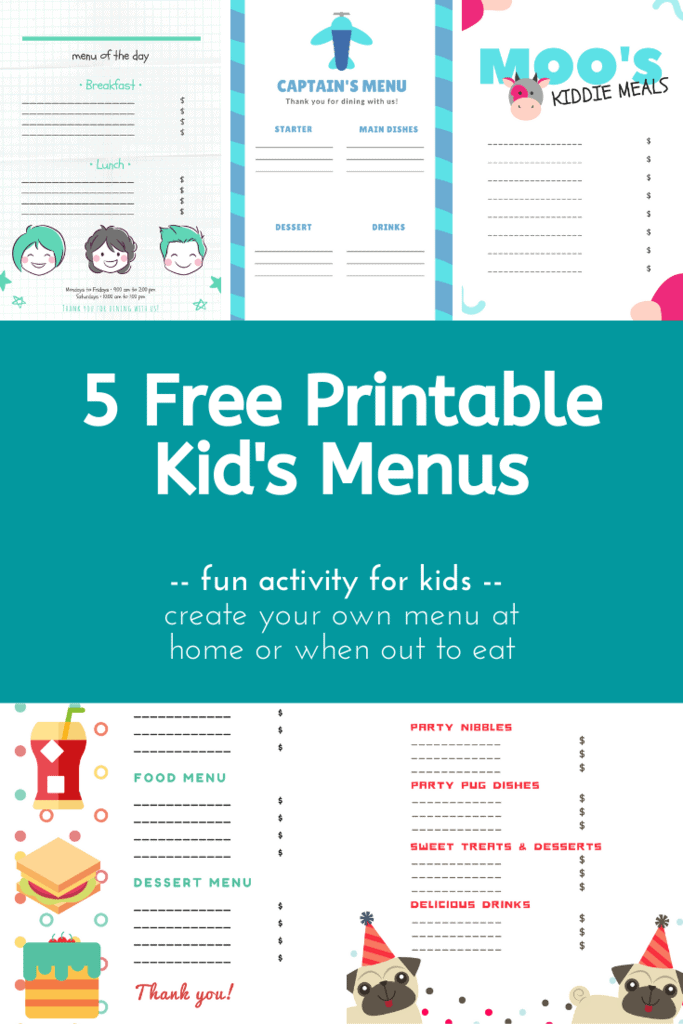 If you do decide to create your own restaurant at home, check out these 10 healthy snacks that toddlers can make.
---

How to Choose Kid Friendly Restaurants
When trying to decide where to go out to eat with little ones, you need to take a few things into consideration. As a mother of three myself, I have already been out to dinner, only to ask them to box up our food before we were ever even served. That's right. We sat down. We ordered. And then either my husband or I had to make a quick dash to the car with our littles, while the other one waited to ask our server to instead bring us our meals in a box and along with the check.
Not only were those experiences super embarrassing, but they were also incredibly frustrating! Now we just paid nearly $80 for dinner, without any of the dinning out luxuries and ambiance. Too bad we hadn't gone to one of our go-to restaurants were kids can eat for free!
After a few failing experiences, I learned a few tricks for choosing kid friendly restaurants, and eating out with children.
Is this restaurant kid friendly?
It's great when you can dine someplace that offers deals where kids can eat for free, or some sort of other money saving discount. But whenever I took my kids out to eat before the age of 10, I looked for venues that were loud. Oftentimes had deep booths (because separation from the table next to you is ideal!). Offered music or entertainment (think cheezy mariachi band). Perhaps an outdoor area with yard games. And maybe a place that even has some peanut shells on the floor.
My examples are places like Texas Roadhouse, Chili's, Chick-Fil-A, an ice cream shop, a local spot where people can sit outside at picnic tables and play bean-bag-toss, a local grill near a scenic spot, etc.
While I tried to use any going out experience to teach my children respect, self-control, manners, and appropriate behavior; it was nice when they could still be kids without feeling those judgy eyeballs from everyone in the room.
Check out how to set expectations for your kids and improve child behavior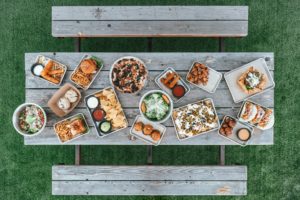 Find Local Kid Friendly Restaurants
I love going to a local family restaurant near us that has an outdoor eating spot with picnic tables and a playground that is next to a small farmette. The kids can play and get their energy out before sitting down and eating, while then watching the farm animals on the other side of the fence. Also, there is a kid friendly restaurant near a small local airport that is not too far from our home. We can sit outside there, play giant yard games, and watch the planes take off and come in for landings. Or we like to eat at a nearby restaurant that has a dock overlooking a canal were small fishing boats come in and out.
These venues are casual, offer great tasting food that is inexpensive, and provide a fun atmosphere that families can enjoy together. And the best part, one of the restaurants even serves their kid's meals on a frisbee that they can take home when after we are done. We've collected a few that now live in our beach bag, pool bag, and in a bin in our garage – how fun!
I have learned to always avoid anywhere that has table-clothes, expensive entrees, and any place that doesn't have chicken fingers on the kid's menu for $5 or less. Otherwise I know that if one of my kids spill a drink, they don't like their food, or they can't sit still; I will be upset. And I would rather try to avoid putting any of us in that situation to begin with.
Check out these free printable sticker charts to encourage good behavior, or let your child rate you with this free parent report card printable
Is the restaurant wait time too long?
Can my kids handle sitting around for 45 minutes to an hour coloring and eating? Or watching the planes, trains, boats, cars, or animals for an hour? Yes. (Tip – like I said above, look for restaurants that offer something scenic to look at.)
Can my kids sit in the middle of a restaurant with nothing to do for 2 hours? No.
It's important to know what your kids can handle and for how long. Do not ask your 6 year old to sit at a table with your adult friends for hours on end and expect him/her to not get into trouble. If you need a day out with friends, then hire a babysitter.
Check out these tips to find a babysitter that's a great fit
---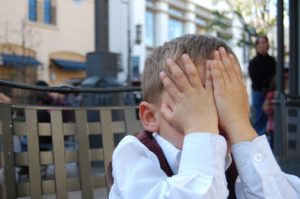 Tips for Eating Out With Kids
Before you even load everyone up in the mini van, and drive to a kid friendly restaurant, ask yourself these questions to better prepare for a nice evening out. But you need to be totally honest with your answers. If you answer unfavorable to any of these, then it might be better to stay in and try to go out another time. Because the last thing you want to do is find yourself in a stressful situation away from home.
Before Going to a Restaurant Ask, "Is my child tired?"
Always always always ask yourself this questions before going out to eat with kids! Even if you are going to a kid friendly restaurant, that still won't save you from a sleep deprived toddler tantrum.
If you have an infant that is ready to sleep for a couple of hours in their car-seat in the restaurant, then grabbing some dinner with them beside you might work out really well! But if your toddler is about ready for nap time or bed time, then avoid taking them out in public. Otherwise you can expect melt-downs, and anything other than sitting still for an hour or more.
Check out promoting healthy sleep from birth to beyond
Do I have kid activities for the restaurant?
It's important to have something to keep your kids entertained while they sit and wait for their food, or while you chit chat with your partner, spouse, or friend. If my kids have had no screen time that day, I might take their iPad along. I also keep a special bag just for special outings. This includes a few small toys, colorful eraser figurines, a little puzzle game, a notepad with tic-tac-toe, mad libs, etc. These are fun little time fillers that they can enjoy with one another, or with their friends if we meet another family out.
But I know that these items won't fill an entire afternoon. For an hour, they are perfect! But I know that even our special bag has it's limits 😉
For more on this topic, check out the full Travel Tips collection
---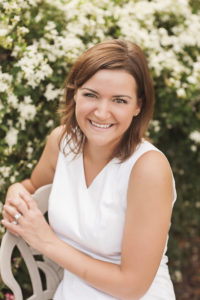 Co-Owner: Karissa Tunis
Karissa Tunis is the co-owner of both the parenting website Adore Them and the family event company Milestone Family Expos. Through these ventures she is able to share inspiring, heartfelt insight with large audiences within local communities and across the country! Her knack for all-things-organization allows her to balance content creation, brand partnerships, and event planning without losing sight of what she wants for her own family. Despite her busy schedule, Karissa also makes it a priority to spend quality time with her husband and three children. You will often find her volunteering at her children's schools, cheering them on from the soccer sidelines, or enjoying the great sites of Charleston, SC with her family.
Contact: Karissa@AdoreThem.com
---