Spring is such a lovely time for hosting a party, don't you think? Everyone is ready to slip on their sandals and leave behind their hibernating ways! So whether it's a special occasion like Easter, or no occasion at all, gathering around a pretty table with friends is always a good idea! Springtime entertaining is a lot of fun, and Easter tablescapes can be magically beautiful!
I believe there can be so much joy found hosting in your home. But all too often it ends up being stressful because we are worried about the space not being "right" or the lack of budget for a "Pinterest perfect" party. But below are my secrets to throwing a simple – yet gorgeous party on a budget.
---
This article is written by Carey Martin Bender
For more on this topic, check out the full Easter Fun collection
---
Springtime Entertaining and Easter Tablescapes
First and foremost, remember that a gathering is really all about the people around your table. But creating a special ambiance can say, "I care about you and our time together." Hopefully these simple, budget friendly tips can help you in hosting a special brunch for your friends and family.
Party Planning Tip # 1 – Seating
Think outside the box as far as where to sit. It doesn't have to be around a typical dining room table. While a dining space could be the perfect place for your brunch; you could also gather around a kitchen island. If the weather is nice you can take the party outside, or even gather around a coffee table if you have a smaller party like I'm highlighting in the picture.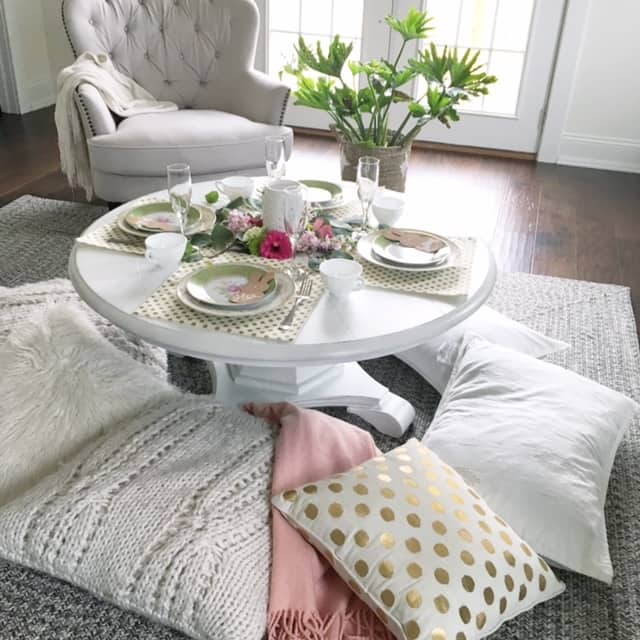 Party Planning Tip #2 – Budget Shopping
Shop at Thrift stores for pretty dishes…or don't use dishes at all! There are so many lovely paper options, which make for an easy clean up so you have more time for just being together.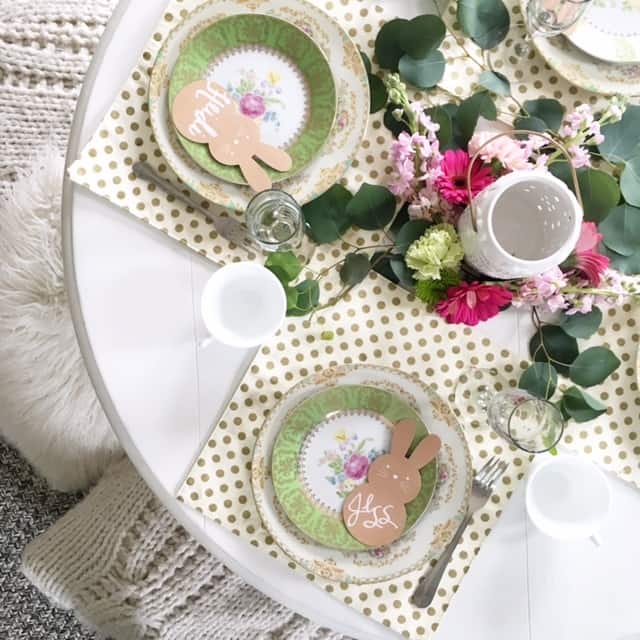 At this table setting I used dishes I found at Goodwill. I paid $2.97 for each large plate and $.97 for the smaller ones! These were perfect for springtime entertaining and my Easter tablescape. With the bright florals and gold detailing, these can also be mixed and matched for future use.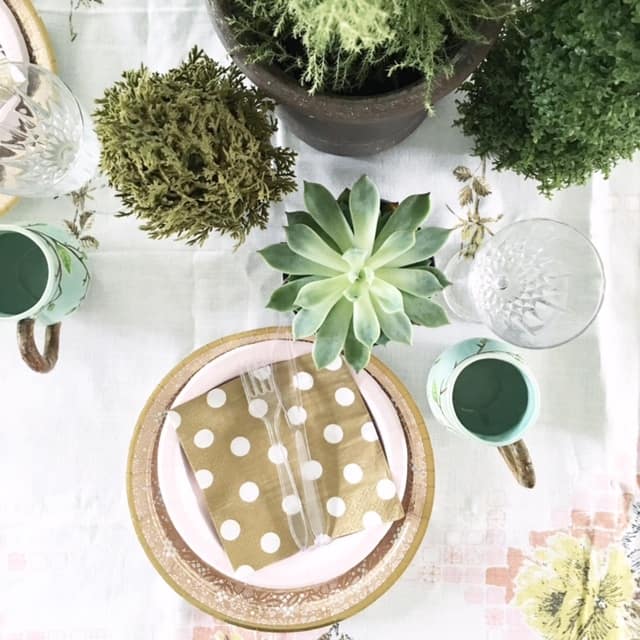 In this example, I used all paper products. I stacked 2 different sized paper plates to add interest! Paper products can be great especially if you're hosting a larger party and want everyone's place setting to still match.
Party Planning Tip #3 – Easter Tablescapes & Centerpieces
Centerpieces can be a beautiful focal for your table, but it doesn't need to cost a lot. In both of these examples I kept costs low by gathering items from around my home, or purchasing a few items from the dollar bins at Target! Silver Dollar eucalyptus dresses up a table beautifully and fills in arrangements or tables so well. You can find it at Costco, our local downtown Central Market, and even at some grocery stores. As far as flowers, think grocery store flowers! They are easily accessible and usually very affordable. Check out my beautiful Easter tablescapes below!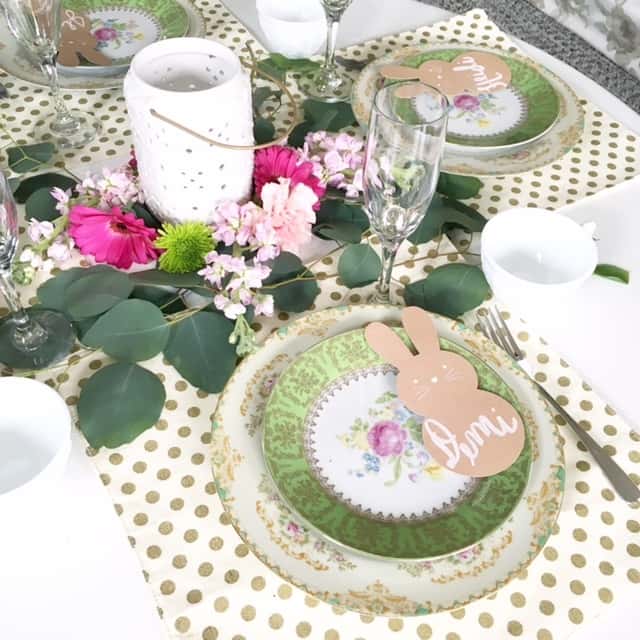 On this table I used silver dollar. I cut the tips off a mixed bouquet from the grocery store and placed a small ceramic lantern from Target dollar bins in the middle. I also made name cards from cardstock bunnies (perfect for an Easter tablescape) that I found in the dollar bins as well!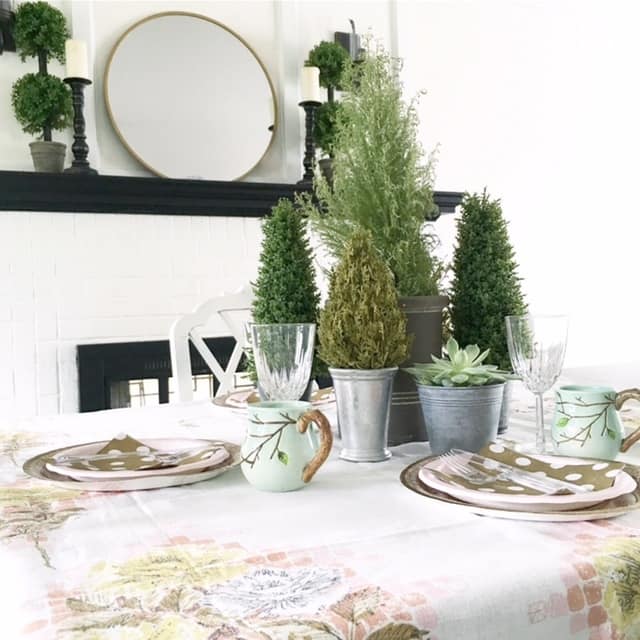 For this centerpiece I gathered potted green trees and succulents that I already had around my house. Take a look around and see what you might be able to pull from other places in your home! Group them together to make a statement centerpiece. In this example, a small succulent could be placed at each person's spot with a name tag, and then could be taken home as a small gift.
Party Planning Tip #4 – Menu
As far as your menu goes, keep it SIMPLE. I like to make things that can be prepared ahead of time, which is especially easy to do with breakfast/brunch type foods.
I've shared some examples of recipes that I've tried and were successful, which tells you they had to be easy! I found all of these on Pinterest and have included the sources for these recipes so you can find other great dishes on these websites.
MAKE AHEAD BREAKFAST BITES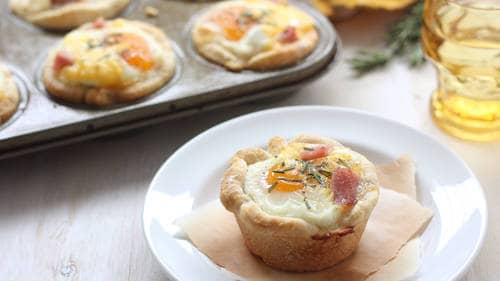 bettycrocker.com
Easy 1 Bowl Banana Chocolate Chip Bread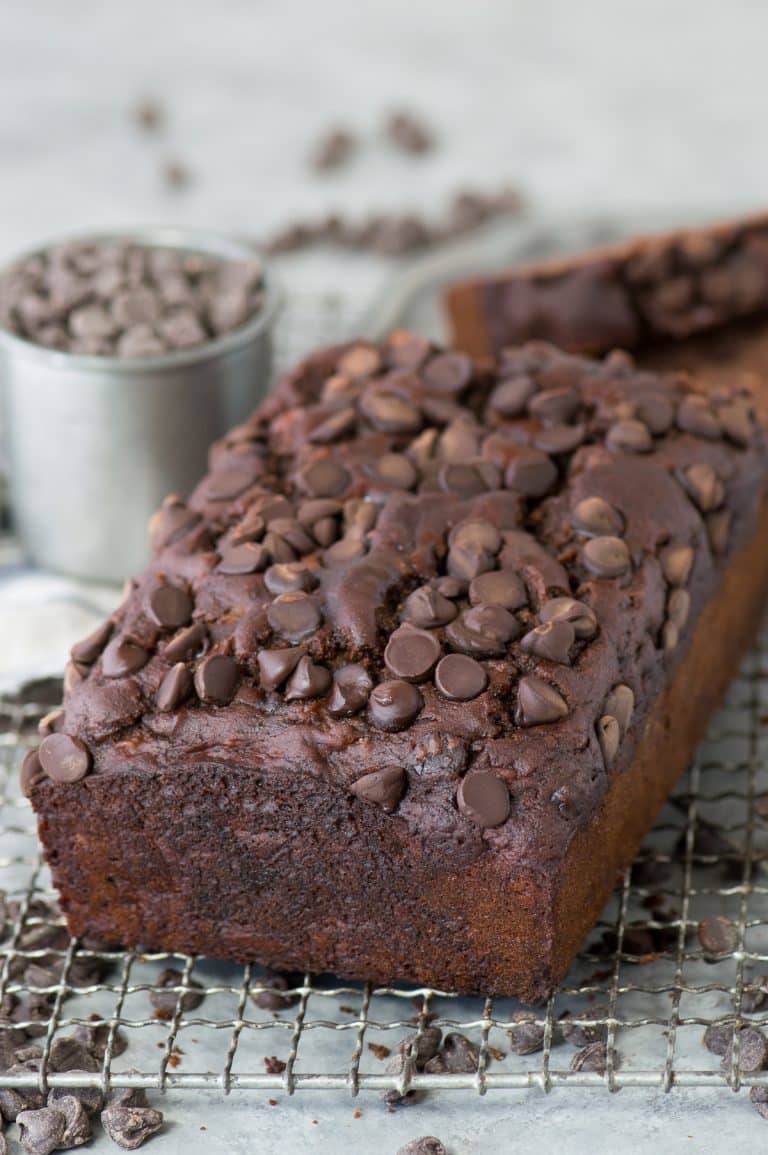 thefirstyearblog.com
Peep Fruit Kebobs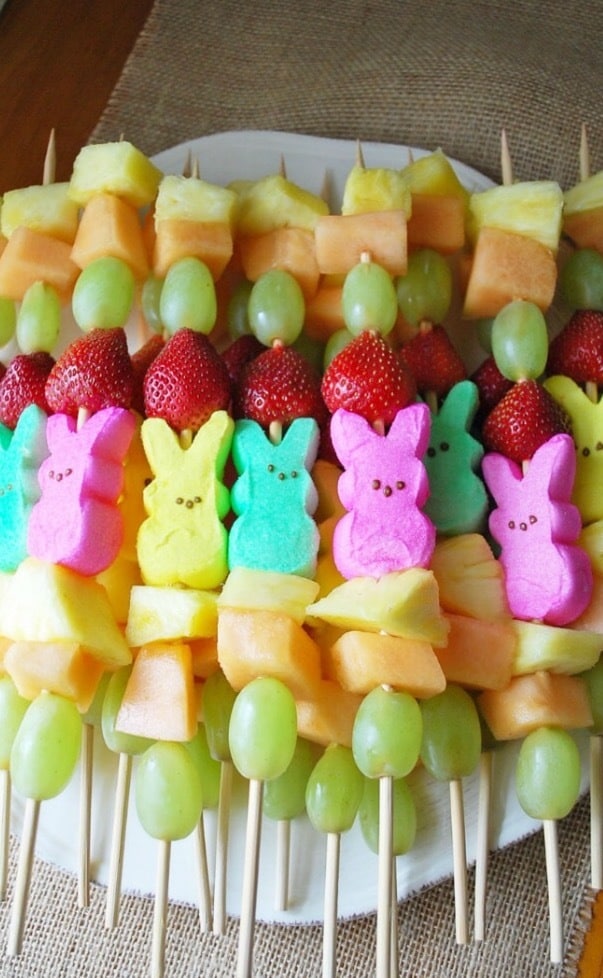 ameessavorydish.com
These are pretty self-explanatory! 🙂
So put a date on the calendar, call a few friends, and bring in Spring with a fling!
---
FREE PARTY PLANNING GUIDES
Enjoy these additional Free Party Planning resources from Adore Them Parenting. Ensure that your next event is a huge success, and that all of your party guests have a wonderful time!
Take advantage of our party planning checklist, and use it the to plan your next event – no matter how big or small!
Creating a party that is fun for adults AND kids is not the easiest thing, but here are tips that will help make your next party a huge success!
Take the stress out of planning your next event by following these helpful tips from an expert event planner! And find out what her secret is to ending every party with a special thanks!
Find out how to host the Perfect Coffee Date – simple, intimate, and fun!
Wondering How Much to Serve at a Party? – Take advantage of this free food and beverage estimator
For more on this topic, check out the full Easter Fun collection
---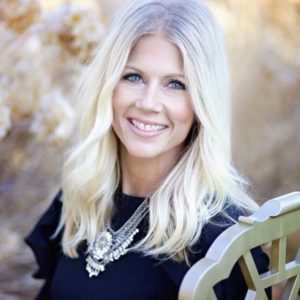 Featured Contributor: Carey Martin Bender
Carey Bender is a wife, mom, and entrepreneur. She is a fashion lover and a fitness fanatic who is always looking for a DIY project, a perfect cup of coffee, and inspiration around every corner. Carey adores Lancaster County living, but is always dreaming up her next adventure.
---